EVERYTHING YOU WANTED TO KNOW ABOUT M3D'S SIGNATURE
HIGH QUALITY FILAMENT LINE IS HERE!
---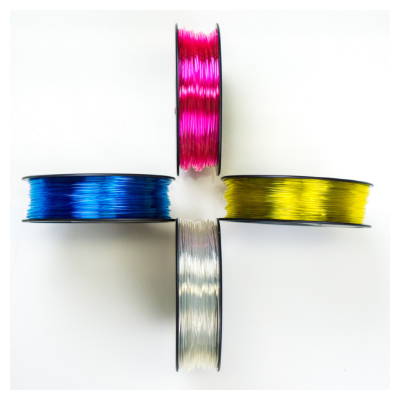 CMYK Color-Calibrated Filament is a brand new filament line developed specifically for color-mixing. Compatible with any 3D printer accepting 1.75mm filament, perfect with the QuadFusion four-filament mixing extruder and Crane 3D Printer series.
ABS-R 3D Ink® is M3D's non-toxic proprietary blend of PETG that was designed to serve as an ABS replacement filament for engineering needs. In other words, ABS-R is a very high-end formulation of PETG that exerts its most superior qualities.
It has increased bonding and lower warp, and does not require a heated print bed, making it a more accessible alternative while still offering the same capabilities of ABS. ABS-R is great for professional engineering where parts need to be machined or have complex overhangs and need to have just a little give.
---
---
---
In addition to designing, manufacturing, and selling 3D printers, M3D specializes in offering a variety of 3D printing materials. We have sold over HALF A MILLION spools of filament among different sizes, colors, and materials, including our special proprietary formulas like Tough and ABS-R 3D Ink®, as well as industry standards like PLA.
We find that many 3D printer users, whether they have an M3D printer or not, prefer M3D's filament due to its high quality and reliability.

So what makes our filaments special?
All M3D filaments are standard 1.75 mm in diameter. We do not chip any filaments to limit their use to just our printers, like other manufacturers do. We don't need to force users to use our materials - they want to.
The value of M3D's own filaments is in the design, formulation, and proprietary process used to make them. When buying our filament, you benefit from the knowledge of 3D printing engineers, polymer scientists, and organic chemists behind M3D materials. The end result is plastic that saves significantly (as much as 78%) in the long run.
M3D sells filament by length instead of weight (which has always gone against the industry norm) because we believe that it's more honest. With M3D filament, you know exactly how much you are getting, no deceptive weights. Regardless of which types are naturally heavier or lighter than others, you can rest assured that you're always getting the amount of material that you actually pay for and never less.
See our blog article for additional details on why Selling Filament by the Length Matters.
---